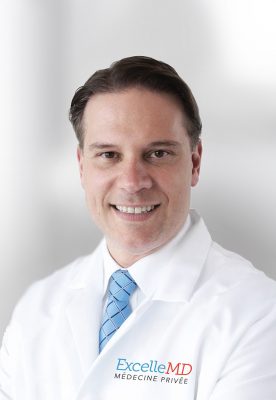 Dr. Christian Lamarre
MDCM, FCFP(em), CFPC, FACEP, FAAFP
MAKE AN APPOINTMENT
Dr. Lamarre obtained his medical degree from McGill University in 1995. Dr. Lamarre worked for over 13 years in emergency rooms in the state of New York; nearly nine of these were spent as head of his emergency department. He has worked on several programs designed to improve the quality of patient care and patient satisfaction. Since 2010, he has practiced private medicine in Quebec.
Dr. Lamarre has obtained the following certifications:
Fellowship in the College of Family Physicians of Canada (FCFP)

Special Competence in Emergency Medicine (CCFP(EM))

Fellow of the American College of Emergency Medicine (FACEP)

Fellow of the American Academy of Family Practice (FAAFP)
He is also board certified by the American Board of Family Medicine with a score in the 99th percentile in 1998, and 790/800 at his recertification in May 2014.
Dr. Patricia Côté
B.Sc., M.O.A.(Aud), MD, CCFP
MAKE AN APPOINTMENT
Dr. Côté has practiced private medicine in Quebec since 2009. She is a graduate of the Université de Montréal and completed her residency at McGill University. She also holds a Bachelor's Degree in Higher Education and a Master's Degree in Audiology from the Université de Montréal. She worked for many years in various remote regions of Quebec, in particular Abitibi.
Her fields of interest include:
General/family medicine, health check-ups

Women's health

Aesthetics (botox/Juvéderm) / Accredited Coolsculpting clinic
Dr. Côté is a member of the College of Family Physicians of Canada and of the Canadian ADHD Resource Alliance – CADDRA (www.caddra.ca). She also participates in the continuing education of her peers by giving presentations on ADHD.
Dr. Lamarre and Dr. Côté work closely with front-line nurse practitioners.
Dr. Myriam Champagne
MD CCMF
Dr. Champagne MD is a Sherbrooke University graduate where, she completed her medical university studies as well as her residency in family medicine. She has been practicing medicine since 2010 and is a member of the College of Family Physicians of Canada. Furthermore, she holds a master certificate in health sciences pedagogy. Moreover she was an assistant professor at the Faculty of Medicine and health sciences of the Sherbrooke University from 2010 to 2017, where she was involved in teaching medical students, family medicine residents and specialized practitioner nurses.

Dr. Champagne also worked in the obstetrics and perinatal department of the Sherbrooke University Hospital as an obstetrician for 7 years.
Aside from following-up with a clientele of all ages, she developed an expertise in pregnancy follow-up, woman's health and paediatric follow-up
Dr. Luc Bisaillon
After more than 25 years working as a general practitioner in the public sector, Dr. Bisaillon recently chose to work in the private sector, as he believes, that in order to provide quality care, it is essential to dedicate each patient the proper time. Among other things, it allows the establishment of a real patient / doctor interaction based on attention, trust and respect, which are essential conditions for a successful and effective patient – doctor relationship.
A medical graduate of the McGill University, Dr. Bisaillon has been a general practitioner over a quarter of a century. After spending several months in Quebec's Far North at the beginning of his career, he devoted himself primarily to emergency room medicine (at Jean-Talon Hospital), while also working as a general practitioner at the Douglas Psychiatric Institute (affiliated with McGill) from 1998 to 2007.
Dr. Bisaillon M.D. has the following degrees and certifications
–MDCM (McGill ,1992)
–CCMF (McGill,1994)
–Legal license to practice from the Doctor's colleges of Québec, Ontario and Vermont.
–Bachelor of Science with honors in Biology with a minor in Psychology (Bishop's,1988)
Dr. Caroline Doyon
SURGEON
Dr. Doyon holds a Molecular Biology master's degree as well as a master's degree in Biomedical Sciences aside from having been awarded a general surgeon diploma in 2012 by the University of Montreal Faculty certified by the Royal College of Physicians and surgeons of Canada. She practised for three years in a high volume Montreal South Shore hospital before redirecting her practice as a surgeon for distant region, where she was able to widen her knowledge in general surgery. She was in charge of the education of medical residents as well as a lecturer at the McGill University Faculty of Medicine.
Dr. Doyon now wishes to concentrate on a patient first approach, more respectful and based on mutual trust.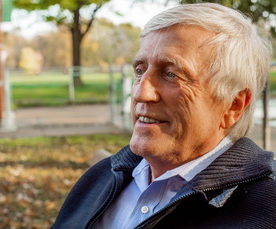 ExpertiseMD
Dr. Jean-Marie Gingras, M.D.
Dr. Jean-Marie Gingras graduated from the University of Montreal with a medicine degree. Throughout his career he has worked in several medical clinics in the greater metropolitan area. His expertise in industrial medicine allowed him to offer his services as a consultant to several private companies. He was also an advisor to the health and social services centers in Quebec.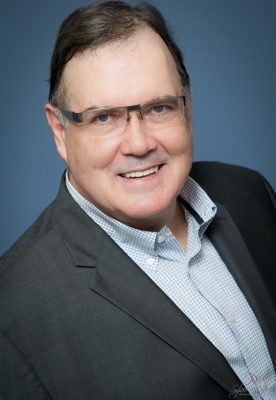 Dr. Jacques Paradis
Dr. Jacques Paradis has been interested in occupational medicine for many years. He has progressively honed his knowledge in this field, more particularly by obtaining a Master's Degree in Toxicology (1987) and an advanced graduate diploma in Insurance Medicine and Medicolegal Expertise (2005).
Nurse Practitioners
Nurse practitioners (NP) are nurses who have clinical experience in a specific field and advanced postgraduate education in nursing and medical sciences that enables them to prescribe diagnostic tests and treatments in addition to performing certain invasive procedures. Collaboration between doctors and nurse practitioners increases access to health services, encourages strategies to promote health and prevent illness, and ultimately improves people's health.
With a master's degree in nursing and an advanced postgraduate diploma as well as solid experience in a clinical field such as neonatology, nephrology, cardiology, or primary care, nurse practitioners provide nursing and medical care and prescribe diagnostic tests, medication, and treatment according to their area of specialty.
At the Excelle MD Private medical clinic, Dr. Lamarre and Dr. Côté work closely with front-line nurse practitioners especially on weekends and holidays. This means that, at the Excelle MD clinic, you have access to a health care professional almost every day of the year.
Dr. Lamarre and/or Dr. Côté are always available on an on-call basis to collaborate with the nurse practitioners, if the need arises. Moreover, if a follow-up with a doctor is necessary a follow-up appointment in person or by phone will be arranged promptly (*certain fees may apply).