It is an innovative technique that sculpts your body by freezing unwanted fat. No Surgery or downtime. With over 5 million CoolSculpting treatments worldwide, this unique procedure helps many achieve a more positive self-image.
« CoolSculpting is the most widely used non-invasive fat reduction procedure in the world! »
The CoolSculpting procedure offers a perfectly controlled cooling, gently and effectively targeting fat cells under the epidermis without damaging the skin. The treated fat cells are crystallized (frozen) and then die. Over time, your body naturally transforms fat and eliminates dead cells, thus sculpting your figure.
CoolSculpting freezes and eliminates stubborn fat
Many of us have stubborn fat despite dieting and physical activity.
CoolSculpting technology uses controlled cooling to target and kill only these fat cells.
In the following weeks, your body naturally transforms fat and eliminates dead cells.
The results of CoolSculpting are sustainable* the treated fat cells are eliminated for good.
APPROVED BY HEALTH CANADA
CoolSculptingMD processable areas
The  abdomen, flanks, arms, inside and outside of the thighs as well as the back, pectoral and chin can all be treated with CoolSculpting®. A single session per zone is usually sufficient, although it is possible, depending on the desired objective, to further the experience and sculpt the body thanks to the different applicators available.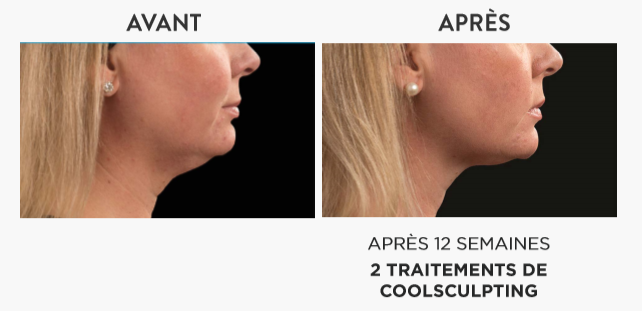 Lose your double chin for a rejuvenated look!
You will meet a CoolSculpting practitioner privately. This person may be a physician or another health professional who has received specific training for the CoolSculpting procedure.
We will spend time to discuss your body remodeling goals. Together, we will study your body from all angles, then focus on the specific areas where you want to eliminate fat.
Marking the targeted area
Applying a gelled film
Installing the applicator
Launching the cryolipolysis process
Massaging the treated area
Follow-up on the intervention
Subsequent sessions of treatment, if needed
Weight loss vs fat reduction
DIFFERENCE BETWEEN WEIGHTLOSS
AND FAT REDUCTION
The number of fat cells in the body reaches a set level
during adolescence. In general, loss or weight gain does not increase
or decrease the number of fat cells.
Fat Cells After
Typical Weight Loss.
As a result of dieting and weight loss,
fat cells shrink in size while their
number remains unchanged.
Fat Cells
After CoolSculpting.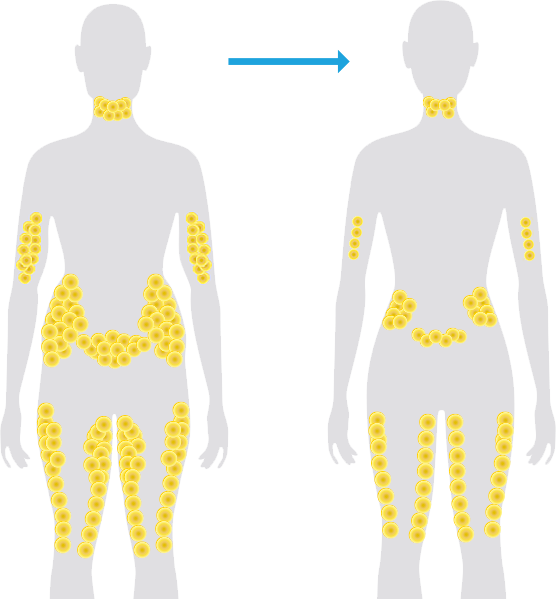 The CoolSculpting fat cooling
procedure reduces the number of
fat cells in treated areas by 20% to 25%.
NO SURGERY | NO ANESTHESIA | NO INVASIVE TECHNIQUE
More than 5 million CoolSculpting
procedures worldwide have
demonstrated the safety and
effectiveness of this fat-reducing treatment.
ExcelleMD
A team of experts who listens to you
Do not hesitate to contact us,
it will be our pleasure to answer your questions